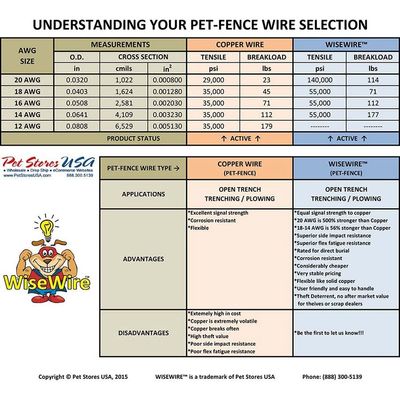 WISEWIRE®

20 AWG is 5X higher in break load- equal to a much heavier 14 AWG copper wire- minimizing damage during installation and while in service. Designed to embody the flexibility and memory of copper with a slightly stiffer feel, it can be used in open trench as well as plow-in installations. 20 gauge copper CANNOT be used reliably in a wire-laying machine due to its low tensile strength... but

WISEWIRE®

does it easily!

WISEWIRE®

20 AWG provides excellent corrosion resistance and superior strength for unmatched tensile, side-impact loads and flex fatigue.

WISEWIRE®

is RoHS compliant and works with traditional connectors.

WISEWIRE®

has been field-tested for the last 2 years by select commercial installers. These installers swear that they will NEVER go back to 100% copper wire!
For those who are still not comfortable with 20 gauge wire, we also offer

WISEWIRE®

in 18 gauge, 16 gauge, and 14 gauge sizes14 gauge tensile strength can be achieved with 20 gauge

WISEWIRE®

weighing 3 lbs- compared to 14ga that ships at 11 lbs per 500' spool. The shipping expense savings are obvious. Each gauge of

WISEWIRE®

above 18 gauge is 56% stronger than its copper counterparts and 20 gauge performs even better compared to 18 gauge.